Paul Withers guilty of murdering Lauren Masters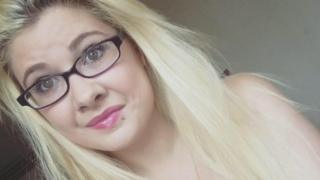 A man who stabbed his ex-girlfriend 23 times with a knife has been found guilty of her murder.
Lauren Masters, 20, was killed in the kitchen of her flat in Sutherland Avenue, Bexhill, East Sussex, by Paul Withers, 22, on 28 August last year.
She had made a 999 call at 13:30 BST begging for help saying she was going to die after being stabbed.
A call was also made by Withers, using a fake name to report screams from the flat. He will be sentenced on Tuesday.
During his trial at Hove Crown Court, the jury heard how on 1 August Ms Masters had told Withers, with whom she had two children, that she no longer wanted to be in a relationship with him.
On the day she died, they had taken the children to Hastings to buy shoes, but argued when they returned home.
Withers, of Davis Close, Bexhill, grabbed a kitchen knife and stabbed her repeatedly before fleeing the flat.
The first officers to arrive there found Ms Masters with stab wounds to her face and body.
Sussex Police said Withers rang his cousin saying: "I have killed her."
He then ran to his cousin's flat in Glovers Lane, Bexhill, where he changed his clothes after dumping his blood-stained clothing in a bag at the back of the property.
Afterwards he made his way to another family member's flat in Buckholt Lane where he again changed his clothing.
Withers was arrested nearby at 15:50.
Following his conviction, Ms Masters' family said: "Lauren was a loving and devoted mother to her two boys.
"Today's verdict shows what an evil, violent, jealous and controlling person Paul Withers is.
"He took Lauren's life in the most dreadful way... she did not deserve to suffer and die like she did."