Trans Pride 2016: Hundreds join Brighton march for equality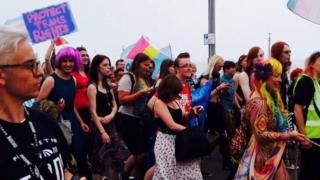 Hundreds of people have marched through Brighton to promote equality and raise awareness of gender diversity.
The 4th annual Trans Pride event, organised by a not-for-profit group, took place on Saturday, with a main event at Brunswick Square.
Brighton & Hove city councillor Phelim Mac Cafferty was one of a number of Green councillors at the event.
He said the trans communities were "a hugely valued part of our city and we are proud to stand together with them".
He added: "Despite the work of the council and others, huge issues still face the trans community.
"This march is an excellent opportunity to remind everyone that there is still much to do to stand up for trans equality."
Brighton police station flew a Trans Pride flag to celebrate the event and the Diversity Team at Sussex Police tweeted that it was "dedicated to supporting our trans community".
The Sussex force was criticised for decorating a patrol car in rainbow colours for a Pride event last year.
This year it has gone one step further and emblazoned a van.