World War One slabs stolen from Patcham memorial gardens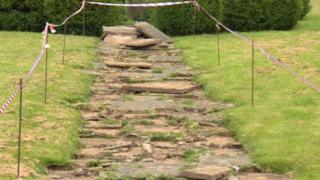 Several tonnes of paving slabs have been stolen from a First World War memorial in Brighton.
It is thought the flagstones were ripped up from the Peace Gardens in Patcham on Thursday night.
Brighton councillor Lee Wares told The Argus it was an "utterly despicable" theft by a "very evil and wicked person".
The gardens were bought by Brighton Corporation in 1928 as a memorial to peace following the Great War.
Sussex Police said it was investigating and wanted to hear from anyone who had information.