Gatwick arrest after airline crew member 'smelt of alcohol'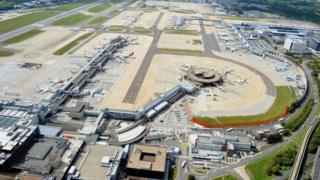 An airline crew member has been arrested at Gatwick Airport after he turned up to work smelling of alcohol, Sussex Police have said.
A plane to Corfu, scheduled to depart at 09:10 BST on Monday, was delayed because of the man's absence.
The 45-year-old man, from London, arrived for work at 10:45 BST and was stopped from boarding the plane.
He was arrested on suspicion of acting as an aircraft crew member while under the influence of alcohol.
The man was bailed until 8 September.