Nurse admits stealing dying patient's Rolex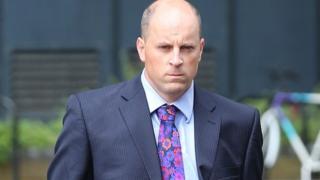 A nursing manager has admitted stealing a £5,000 Rolex watch from a dying patient at a West Sussex hospital.
The Submariner watch was taken while David Davies, 68, was being treated at St Richard's Hospital in Chichester in August 2014.
Joseph Miller, 40, of Barnham Lane, Walberton, pleaded guilty to theft at Portsmouth Crown Court.
A Western Sussex Hospitals NHS spokesman said Miller abused the trust placed in him.
'Devastated'
Amanda Parker, director of nursing and patient safety, said: "This was an appalling episode and all the more distressing for the circumstances in which it occurred.
"I am extremely sorry that Mr Davies's family have been subjected to this ordeal by the actions of Mr Miller, who abused the trust placed in him by his profession, his colleagues and his patients.
"We expect the very highest standards of honesty and integrity from all our staff and have helped the police inquiry in every way we can."
Mr Davies had been taken to hospital with a serious heart condition and was in the resuscitation area next to A&E.
The watch was taken while doctors worked to revive him.
After the theft, Mr Davies's family said they were devastated.
Sussex Police later recovered the watch and returned it to the family.
Miller is due to be sentenced on 9 August.
He had not worked at the trust since the theft and "will not be returning in the future", Ms Parker said.