Beachy Head safety alert as walkers spotted above crack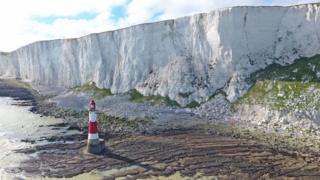 People have been spotted walking above a large crack in the chalk cliffs at Beachy Head.
Eddie Mitchell tweeted a photograph of the crack and wrote: "Huge crack at Beachy Head Cliff cliff walkers oblivious to it."
Eastbourne Borough Council has issued safety advice urging people to keep away from the cliff edge and face.
Cracks also appeared this year at Seaford Head, prompting fears thousands of tonnes of chalk could fall.
Experts have warned cracks can stretch back up to 15m (49ft) into the chalk.
A spokesman for the council said: "Being the gateway to the South Downs National Park we have some of the most beautiful landscapes in the country, but as with all natural or wild environments it is important to take care.
"Members of the public should always stay a safe distance away from the cliff edge at Beachy Head and away from the cliff face when walking and relaxing on the beach beneath.
"The cliff edge is prone to erosion and fissures in the chalk, such as the one pictured, are very common."