Safety alert after Brighton Airbnb balcony collapse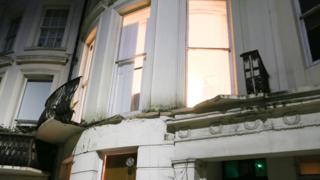 Residents with "decorative" balconies are being warned not to sit or stand on them after four people were injured when one collapsed.
Two men and two women were hospitalised for serious leg and arm injuries after falling into a basement from a first-floor flat on Friday.
Airbnb, which rented the property, said it had removed it from its listings.
East Sussex Fire and Rescue said over time balconies crack, let in water and become weaker.
Structural instability
Fire Commander Chris Baker said: "We have attended similar incidents in the past where residents used balcony areas and suffered an injury.
"Quite a few properties around the city have these balconies, they are more of a decorative feature than a balcony."
He said balconies were not always "constructed for the purpose of sitting or standing on".
Brighton and Hove City Council said its surveyor and the fire service made the remaining section of the balcony safe and had been in touch with the owner to discuss repairs.
A spokesman for accommodation rental company Airbnb said: "We have removed this listing from Airbnb while we investigate and are in contact with the host and guests.
"There have been more then 80 million guest arrivals on Airbnb and problems for hosts and guests are extremely rare."
Sussex Police said there were no suspicious circumstances.