Sussex remembers 366 dead from Somme diversion battle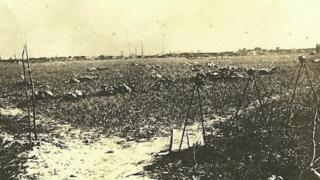 Commemorations are being held to mark the 100th anniversary of the day 366 Sussex soldiers died in a battle to divert attention from the Somme.
The soldiers, known as Lowther's Lambs, formed three battalions of The Royal Sussex Regiment sent to capture a bulge in the German defences near Lille.
The Battle of the Boar's Head was one of several diversions the day before the Battle of the Somme on 1 July.
It has since become known as The Day Sussex Died.
There were also more than 1,000 casualties.
The aim of the battle was to distract the Germans and convince them the main offensive would be launched in Richebourg, rather than further south where British troops had massed.
"This battle involved three battalions, all recruited from the South Downs, who fought together and died together," said Col Roderick Arnold, president of the Royal Sussex Regimental Association.
"There were brothers, cousins - the lot.
"They knew they were taking part in a diversionary attack to take the pressure off The Somme."
Among the men who gave their lives were 12 sets of brothers.
Company Sgt Maj Nelson Carter, age 29, was awarded a posthumous Victoria Cross for his bravery.
Bells are being run in churches across East and West Sussex, with the first peal at Chichester Cathedral.
Services are being held in Sussex and Richebourg, where about 150 people have gathered, and in Worthing, a commemoration stone was unveiled in Beach House Park.