Biogas site stopped from converting other farms' waste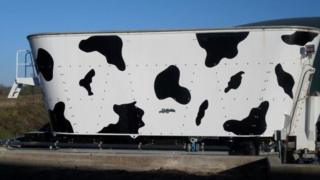 A biogas farm has been refused permission to convert waste from other sites after neighbours complained about lorries clogging narrow lanes.
But a planning inspector also ruled the site in West Sussex could export gas from its own waste, mainly slurry.
A parish council said the site only has permission for "small scale 'on-farm' processing".
The owners said "everyone should benefit from its renewable energy".
Crouchland Farm at Kirdford, near Billingshurst, challenged a county council ban on using existing silos for imported feedstock for its biogas plant.
It said it was operating entirely within the law as the planning process was ongoing and it would "continue to support local farmers that provide us with feedstock".
Managing director Leon Mekitarian said: "This ruling gives us permission to continue to produce and export renewable energy for the benefit of the whole country, protecting the livelihoods of the people that work on our farm."
'Inappropriate HGVs'
But Sara Burrell, chair of Plaistow and Ifold Parish Council, called on Crouchland to "respect the decision" and "stop the thousands of inappropriate HGVs from causing damage to our local environment".
"Crouchland Biogas only has permission for a small scale, 'on-farm', Anaerobic Digestion facility to process 'on-farm' slurry and waste," she added.
West Sussex County Council said it would need to "identify the implications of the inspector's decision for the forthcoming inquiry".