High Court ruling saves Cuckfield village meadow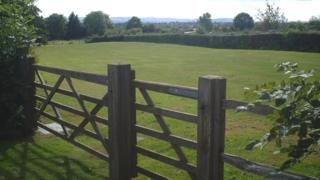 Campaigners who fought plans to build a house on a village meadow have won their battle in the High Court.
The gates to the meadow in Cuckfield were padlocked after Mid Sussex District Council approved plans to build a property there.
A fight began by campaigners who wanted to keep the site for the community.
The High Court quashed the consent which it said harmed the conservation area and was against policy. The council welcomed the clarification.
People in the village are now calling for the open space to be given to the community.
Campaigner Flis Irving said: "This had been used as informal recreation area absolutely for generations and that was put a stop to, padlock on, and no children playing in the field any more."
Janet Beals, from the nearby Next Step Nursery, said their children used to go on the meadow twice a day, but have since had to find other places.
"Yesterday, we were running up and down inside the allotments," she said. "But there again we have to check first there's nobody in the allotments that we're upsetting."
James Pavey, the lawyer who represented campaigner Ms Irving, said the council had wanted to sell the meadow for inappropriate development, but the the building, in a conservation area, would have blocked clear views over the South Downs.
He said: "The council should take stock, think hard about the environmental harm that such development would do, and act in the interests of the local community by dedicating the play meadow for public use as open space."
A spokesman for Mid Sussex District Council said: "The land at Courtmead Road had been identified as a building plot as far back as the 1980s.
"We are pleased that the court has clarified the complex legal position around one of the applications on this site."