Girl, five, found alone at Brighton station bus stop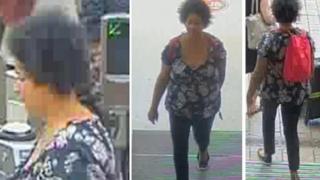 A five-year-old girl has been found alone at a bus stop near Brighton railway station.
Police are desperately searching for a woman, believed to be the girl's mother, who arrived in the city with the child on a train from London.
The pair were spotted at the station at 12:30 BST on Friday and CCTV footage showed them walking along Queens Road.
Minutes later concerned members of the public spotted the child alone at a bus stop near an Ibis Hotel.
The girl is being looked after by Sussex Police officers who said they are "extremely concerned" for the missing woman's welfare.
'Lost mum'
Detective Inspector Lee Horner said: "We have looked at CCTV and traced the woman and the girl along Queens Road to the area of the Ibis, where we lose them.
"The girl then ends up back at the bus stop about 100m south of the station. We don't know if she returned by herself or whether she lost mum there."
The woman is described as by police as black, about 5ft 9ins (1.75m) tall with dark curly hair, and in her mid 30s.
She was wearing a flowery black top and black trousers and carrying a red or pink backpack.
Det Insp Horner appealed for the woman to contact police or for anyone who knows her to come forward.