Tributes to Sussex football coach Donny Sinclair after Father's Day death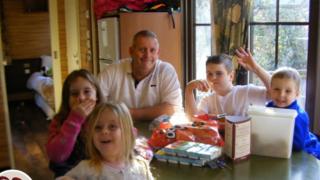 Tributes have been paid to a football coach who died on Father's Day.
Donny Sinclair, from Peacehaven, East Sussex, collapsed during a fun football game for DaSH Junior FC on Sunday. Among the spectators was his son.
Family friend Paula Woolven said the 49-year-old suffered a cardiac arrest and died "despite the desperate efforts of medical staff to save his life".
She said the "larger than life" father-of-six was "the driving force behind many community initiatives".
Mr Sinclair's 12-year-old son had been watching the match from the sidelines when his father called to him for a drink before collapsing, she added.
A crowdfunding appeal in aid of funds to support his family has so far raised more than £2,500.
Mr Sinclair, who had two grown-up daughters and four young children aged 12, 9, 6, and 4, was also a swimming coach at the Peacehaven swimming pool where he taught many young people and adults to swim.
Friends said he "always had a smile and a helping hand, and nothing was ever too much trouble for him".
Mrs Woolven said he was chairman of the village hall committee for several years and was involved in the Denton Community Challenge sports event, which raised thousands of pounds for local charities.
He was also part of the South Heighton Bonfire Society with his wife Vicky.
Mr Sinclair had been a volunteer football coach with DaSH (Denton and South Heighton) Football Club for five years, and had been due to become chairman of the club next month.
One tribute on the crowdfunding appeal page said: "You have left a big hole in the community."