Brighton Grand Hotel IRA bomb responders' 'asbestos fear'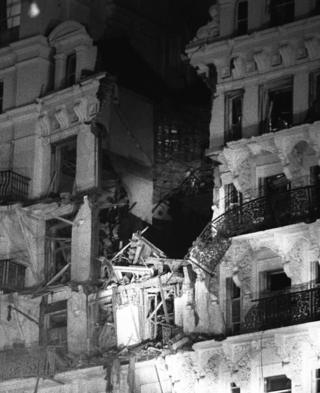 Emergency workers who went to the Grand Hotel in Brighton when it was bombed by the IRA during the 1984 Conservative Party conference could have been exposed to asbestos, police have said.
The alert follows the death of a Metropolitan Police officer who was at the hotel.
He died of an asbestos-related disease in December, Sussex Police said.
The force is now working to trace those who were there and provide health information and support.
Letters have been sent to Brighton council, Brighton and Sussex University Hospitals NHS Trust, Conservative Party members and local hotels and businesses to tell them their staff may have been affected at that time.
Assistant Chief Constable Steve Barry said: "People could have potentially been exposed to asbestos fibres within the hotel debris.
"While we know that police officers working at the scene were issued with personal protective equipment, this was some days after the explosion."
Mr Barry, who is leading a group to co-ordinate the work, said the force had become aware of the Metropolitan Police officer's death and had a duty to identify and inform people.
"While the chances are small that people were exposed at any length to asbestos, we want to offer reassurance," he added.
An ambulance worker who was at the scene has responded to the development on the Sussex Police Facebook page and others have posted comments to say they are related to or know officers who responded to the blast.
Neville Till, an ambulance worker, wrote he was "inside the building for some considerable time with no protection".
Conservative Party members were staying at the hotel during their October 1984 conference.
Five people died and 34 were injured in the attack aimed at Prime Minister Margaret Thatcher and her cabinet.
Patrick Magee, who planted the bomb, was jailed but released under the Good Friday Agreement.