Brighton council plans to move Hove library defeated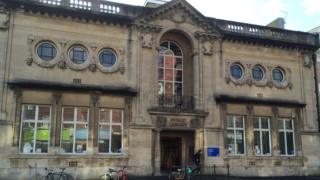 Plans by Brighton council to sell Hove's Carnegie library and move it to a museum have been defeated by opposition councillors.
The council's policy and resources committee saw the Green Party and Conservative groups join forces against the council's Labour administration.
The Tories said the figures were wrong and the library was worth the money.
Labour council leader Warren Morgan said the move followed Conservative government cuts.
The council said the move would save between £301,000 and £735,000 in maintenance over five years, along with annual running costs of £337,000.
It said the building sale would raise about £1m, which would contribute to the £1.4m cost of extending Hove Museum to house library facilities.
Further money for the extension would come from selling the Hollingbury library building and moving its services.
And it said benefits included improved exhibition space and facilities, a new IT suite, a broadened cultural programme, combined museum and library resources and an outdoor space.
But Conservative group and opposition leader councillor Geoffrey Theobald said the existing library was "buzzing".
He said the council had not budgeted for planning agreements and added: "They think they'll get £1m for this building and then they want to spend £1.5m on an extension."
Mr Morgan said the council had to provide services with 40% less money after government cuts and Hove building was the most expensive library to run.
He said the Conservative group wanted to spend on the Edwardian building, constructed in 1908, but also wanted to save money.
He added: "It's not a consistent approach."
Christopher Hawtree, from the Save Hove Library campaign, said he welcomed the development with "relief and elation".
He said the building was Grade II listed not so much for its facade as the play of natural light throughout the building.
Adding that it had steel rods supporting the upper floor for the weight of books, he said: "It's designed as a library and to convert it into anything would be extremely difficult."