Brighton traders hit out at 'ramshackle' terraces plan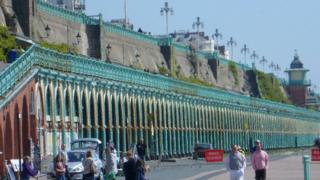 Traders have condemned Brighton city council's plans for crumbling Victorian arches on the seafront as "ramshackle".
The council intends to bid for government funding of between £3m and £4m to rebuild Madeira Terraces and put in new glass-fronted business units.
But Brighton Seafront Traders Association spokesman Neil Sykes said: "There is nothing in concrete - this is is nothing but a smokescreen."
The council said it would submit its bid for funding by 30 June.
It said the Coastal Communities money would not meet the cost of a like-for-like rebuilding of the terraces, which would cost up to £30m.
Part of Madeira Terraces was cordoned off last summer after the council said the structure had corroded beyond repair.
Two businesses had to move and part of the structure at risk of collapse was fenced off.
Mr Sykes, who runs the Modern World Gallery, said the impact on those remaining was massive - with an 80% downturn in trade.
"We are very unlikely to last much longer," he said.
"We have been asking for answers for about six months but this is a ramshackle proposal."
'Lively area'
Council leader Warren Morgan said the seafront east of the pier would be transformed into a lively area which would generate income.
"We will stick diligently with this so that the terraces get the most comprehensive conservation programme they've undergone and are put on a sustainable footing for the first time in history," he said.
The Victorian Society has said Madeira Terraces do not need to be knocked down and rebuilt, but could be restored.
"The council must commission a new full structural survey from a conservation accredited structural engineer before deciding that the existing listed structure cannot be repaired," it said.