Sussex Police apologises over restraint of disabled girl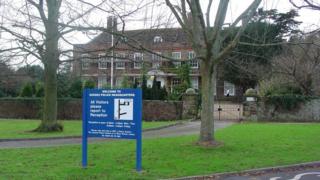 A police force investigated over its treatment of an 11-year-old girl who was restrained with a mesh hood and leg straps while in custody has apologised.
The child, who has a neurological disability, was also handcuffed by officers when she was arrested.
The police watchdog has said a number of officers and staff have a case to answer for misconduct.
Sussex Police's acting deputy chief constable has apologised for the distress caused.
The child's mother, known as Ms H, described it as "degrading and barbaric" treatment.
I cannot understand why others thought it was appropriate to put an 11-year-old girl in handcuffs and leg restraints.
Thinkstock
She told 5live Breakfast: "Spit-hoods shouldn't be used on children - end of story, and sadly not on disabled children who aren't in control of their actions.
"It's degrading, it's actually barbaric and when I saw her with one on it was horrific.
"I will never ever get the image out of my mind. There's just absolutely no excuse for spit-hooding children."
Sussex Police Deputy Chief Constable Robin Smith told BBC News he did not think the use of spit-hoods on children was acceptable and called for a nationwide debate on the subject.
'Absolutely petrified'
In a report, the Independent Police Complaints Commission (IPCC) said the girl, named Child H, was arrested three times and detained under the Mental Health Act once between 2 February and 2 March 2012.
Her disability had not been diagnosed at the time of the police contact, but her mother had told officers she believed she had autism spectrum disorder.
Despite this, the IPCC found she had twice been held overnight in police cells, without a parent, guardian or social worker present to support her.
Her mother said her daughter's contact with the police "was nothing short of a nightmare for both of us".
Misconduct findings
A custody sergeant and an inspector, who failed to ensure an appropriate adult was present, have since retired
The force took "management action" against six custody sergeants found to have failed to ensure an appropriate adult was present
Another custody sergeant found to have failed to ensure Child H was dealt with quickly was disciplined, along with two police constables who restrained the girl in handcuffs
No further action was taken against a former front desk enquiry officer, a call handler and a police constable
"At the time her disability meant that she could behave in very challenging ways, but what she needed was patience, respect and the support of her mother," Ms H said.
"Instead she was locked up in a police station without me or anyone else who knew her for support."
Ms H said the actions of the officers had left her daughter "emotionally traumatised".
"It sent her into a state of emotional trauma that lasted many, many, many months," she said.
IPCC recommendations
The watchdog made a number of recommendations after its investigation, including:
• Improved training on the use of force on children and adults with mental illness, to ensure the use of force is avoided wherever possible
• Additional training on detaining vulnerable people and the role of an appropriate adult
• Ensuring officers are accountable for their use of force
On a number of occasions, officers did not record any rationale for their use of force on the youngster, who has "a neurological disability which can cause challenging behaviour", inspectors said.
IPCC Commissioner Jennifer Izekor said: "This was a complex investigation, which found Sussex Police officers failed to respond effectively to the needs of a vulnerable child.
"While it is clear Child H had significant behavioural problems arising from her disability, Sussex Police and, indeed other agencies which were - or should have been - involved, did not appear to have the skills and capacity to respond to her effectively.
"The situation was exacerbated by the lack of understanding of Child H's complex needs."
Ms Izekor added she was pleased the force had engaged with Child H's family to improve any future dealings with her after the IPCC launched its investigation.
Analysis
BBC home affairs correspondent Danny Shaw
This is a highly emotive case which comes just three months after the IPCC warned that people with mental health problems were more likely to die after officers used force against them than those who aren't mentally ill.
In a major report, published in March, the watchdog described the way police used restraint equipment as "troubling".
One item that some constabularies use is a spit-hood or spit guard. One was placed over the head of the 11-year-old girl from Sussex.
Although the girl's mother, understandably, and others, would like to see them banned, remember also what it's like to be a police officer on the receiving end of a mouthful of phlegm and spit, with the health risks that can bring.
Some officers regard spitting - which the Police Federation claims occurs in 28% of assaults against officers - as worse than being punched in the face.
Sussex Police said it would respond to any "new learning" identified.
Deputy Chief Constable Smith said: "The mother called us in the first instance. We responded in the way we thought was appropriate at the time. So hear me now saying I'm sorry for the distress that that's caused."
He said "management advice" had been given to some officers about the use of the spit-hood on a child "because that wasn't acceptable".
Calling for a debate about their future use, he added: "This spit-hood, or spit guard, is used across a number of forces, and indeed nationally and internationally.
"But it is very important to make sure that you offer reassurance, that you explain the reasons why this is happening."