Sussex hospital transport firm given improvement ultimatum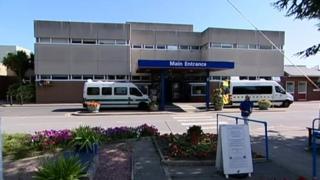 A company has been given a matter of weeks to improve the hospital transport service it provides in Sussex after a health boss said patients were at risk.
Coperforma took on the job in April but the service has been beset by delays and even failure to collect patients.
Sussex MPs say they are optimistic of improvements after hearing from the company and the health executives who appointed it.
The firm says it is confident its extra investment will help it meet targets.
Fourteen MPs were represented at a meeting on Wednesday with officials from the county's clinical commissioning groups (CCG) and Coperforma.
'Safety risk'
They heard the CCG requires 95% of patients to be at their appointments on time or within 15 minutes of their scheduled time by the time they meet again in early July.
The non-emergency patient transport service for Sussex was passed to the privately run company on 1 April, since when there has been a catalogue of complaints from patients missing appointments.
Dr Adrian Bull, chief executive of East Sussex Healthcare NHS Trust, said in a report to the trust's board: "They are causing significant patient dissatisfaction and pose a safety risk to many patients."
And he revealed that his trust had spent £40,000 on providing replacement transport since Coperforma took over in April.
Huw Merriman, the Bexhill and Battle MP, said he felt reassured that Coperforma could meet the "tight" deadline.
He said: "They currently are doing that elsewhere in the country. Also, the assurances that we got from the CCG were that if they don't deliver to these targets, then measures will take place under the terms of the contract to get somebody else in that can."
Wendy Carberry, one of the CCG executives who appointed Coperforma, said: "We are sorry for the impact this is having on patients and NHS staff. We are working with Coperforma and local hospitals to address this."
Coperforma said in a statement: "While stretching targets have been set which need to be met by early July, Coperforma is confident of meeting those targets and is investing in additional resources at its own expense."