Hove plinth crowdfunding campaign launched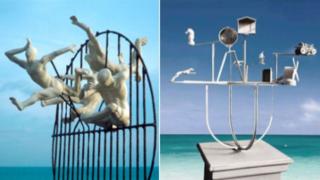 A crowdfunding campaign has been launched to raise the remaining £35,000 of £100,000 needed for a plinth on Hove seafront to showcase public sculptures.
Three designs selected after a public vote, will be displayed on the plinth on King's Esplanade.
The project, run by Hove Civic Society, is also being funded by private donations, grants and sponsorship.
Project manager Karin Janzon said she hoped local people would turn their "good will into hard cash".
"Many of our great Victorian monuments were funded by public subscription - the crowdfunding of the times.
"Let's prove that the same spirit is still around," she said.
As an incentive, contributors will be offered rewards in exchange for donations.
The three sculptures are Escape by Matthew James Davis; Flight of the Langoustines by Pierre Diamantopoulo and Constellation by Jonathan Wright.
Each design will be displayed for up to 18 months at a time.
The Hove Plinth, at the south end of Grand Avenue, opposite the statue of Queen Victoria, has been inspired by the Fourth Plinth in London's Trafalgar Square.
The site will also provide a platform for short-term displays, performances and events in collaboration with local organisations and schools.