Actor's family bid to set up Haywards Heath performing arts academy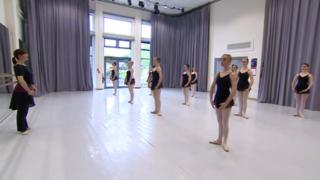 Relatives of actor Sir John Gielgud are bidding to set up a performing arts school on the campus of a sixth-form college which is closing due to debts.
The Gielgud Academy (GAPA) wants to set up a free school which will also teach the national curriculum on the Haywards Heath campus of Central Sussex College.
Warden Park Secondary Academy, based in Cuckfield, is also bidding to set up a sixth-form academy on the site.
A final decision will be made by the Department for Education.
Central Sussex College will close its East Grinstead campus this summer and its Haywards Heath campus next year due to debts of £25m, with the loss of 43 jobs.
GAPA, run by the late Sir John's great-nephew Piers and his wife Suzanne, already uses Central Sussex facilities for evening and weekend classes, but wants to expand to become a full-time school for children aged five to 18.
---
Who was Sir John Gielgud?
Born in 1904 he was a leading Shakespearian actor acclaimed for playing Hamlet as well as his comedy performances in Oscar Wilde's The Importance of Being Earnest.
Equally at home on the stage or in front of the camera, he was knighted in 1953 and awarded the Order of Merit by the Queen in 1996.
He worked until his death in 2000, at the age of 96.
---
Its bid is supported by TV and radio presenter Katie Derham who trained with professional dancer Anton du Beke in dance studios at the college while competing in Strictly Come Dancing.
Her two daughters also attend GAPA.
"It does need a fresh approach, clearly it wasn't working just as a sixth-form college in that location," she said.
Conservative MP for Mid Sussex, Sir Nicholas Soames, said he wanted the Haywards Heath site to become a sixth-form college.
"My personal aim is to make sure Haywards Heath and the surrounding areas have a really excellent sixth-form college with a completely new start," he said.
Head teacher of Warden Park Secondary Academy, Jonathan Morris, said the area needed a sixth-form college.
"There are about 130,000 people in Mid Sussex - that's about 900 students in year 11 in local schools," he said.
"I do feel that our students deserve an academic sixth form and we can deliver it."
The Department for Education said it was working with West Sussex County Council to consider options for the future of the Haywards Heath campus but declined to comment further while the discussions were ongoing.