PC Mark Scruby sacked for sharing porn at work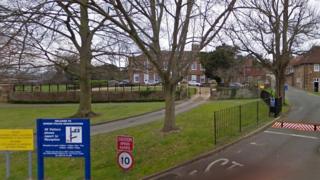 A police officer has been sacked after he shared pornographic pictures among colleagues, including a supervisor who he compared to the women in the images.
PC Mark Scruby, 37, based in Crawley, admitted five allegations of sharing pornographic images in February.
He suggested to colleagues a woman in them bore a resemblance to a female supervisor - who he later showed the images and repeated the suggestion.
A Sussex Police panel found his actions amounted to gross misconduct.
Shared on duty
The public hearing at Sussex Police HQ heard PC Scruby sent his supervisor the image via Whatsapp and shared a pornographic video from which it had been taken.
He sent the images in the report writing room and the canteen while he was on duty, Sussex Police said.
"The panel does not accept that the sharing of this type of image could ever amount to a joke," said chair Clare Harrington.
PC Scruby's Police Federation representative said he had made some very poor decisions which would not be made again, that he had admitted his wrongdoing and apologised.
Assistant Chief Constable Laurence Taylor said: "PC Scruby's actions were not simply a one-off moment of thoughtlessness, but a series of incidents, each compounding the previous and bringing distress to the colleague who he targeted."