Men groomed and abused 12 teenage girls in Littlehampton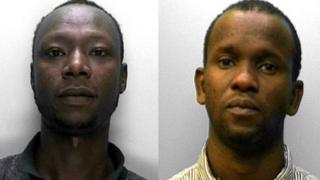 Two men have been convicted of grooming and sexually abusing 12 teenage girls they befriended at a parade of shops in West Sussex.
Osmon Koroma and Max N'Gasa met the girls, aged from 13 to 15, at Wick Parade in Littlehampton where Koroma lived in a flat, Sussex Police said.
The pair requested sex acts from the girls in exchange for cigarettes and alcohol they bought on their behalf.
Koroma and N'Gasa were remanded in custody for sentencing on 7 June.
Lewes Crown Court was told the offences were committed between 2010 and 2014.
Some of the victims knew each other but others did not.
'Complete denials'
Det Insp Miles Ockwell said the girls were sometimes sexually abused by both defendants.
"Such was the level of grooming, many of the girls considered they were in relationships with the pair, despite the obvious significant age gap between them," he said.
"Both men, when arrested and interviewed, made complete denials saying that they had never met and did not know the victims and they have maintained this position throughout the trial.
"In doing so, they have made their victims have to re-live their ordeals all over again by having to tell their stories in court."
Koroma, 31, of Norton Road, Hove, was found guilty of eight offences, including one rape, against five girls.
N'Gasa, 25, of Cranmer Avenue, Hove, was convicted of 10 offences, including two rapes, against seven girls.
N'Gasa was cleared of one sex assault and charge of attempting to carry out sexual activity with a child.
Sussex Police and Crime Commissioner Katy Bourne welcomed the convictions and said a serious case review was being carried out by the Independent West Sussex Local Safeguarding Children's Board.
Peter Kyle, Labour MP for Hove and Portslade, said he was "absolutely determined" to get to the bottom of what happened.
"If these young girls have been exhibiting behaviour that was picked up by any of our services or any other individuals and wasn't acted upon we need to know that," he said.
"We need to make sure other young people are given protection they deserve from predators like these two."