Council seeks views on Alfriston bottleneck traffic solution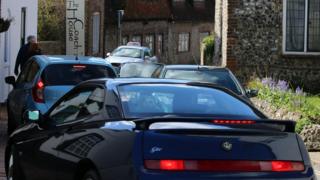 A possible solution for traffic issues in an East Sussex village is being discussed at a two-day public event.
East Sussex County Council said Alfriston village high street is a bottleneck that creates conflict for vehicles and pedestrians.
The council said a one-way system, shared space scheme and traffic signals have all been considered.
But it said its focus was now traffic signals due to width restrictions, safety issues and junction layout.
Signals are proposed at the northern and southern end of the high street, plus a reduced speed limit of 20mph through the village centre.
'Difficult' issue
Cllr Carl Maynard, lead council member for transport and environment said: "While everyone agrees that something needs to be done to address the traffic issues in Alfriston, it has been difficult to identify a solution that is likely to achieve total agreement."
He added: "We are grateful to the parish council for the amount of work they have carried out to find an answer and now it is important that everyone is given the opportunity to have their say."
The council said feedback from the event at The Old Chapel Centre in Alfriston on Friday and Saturday would help shape the final design.
Residents and local businesses can also view the proposals and comment online.