Tommy Ramshaw death: Fund launched to help bereaved parents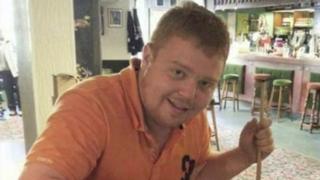 The mother of a man who was killed at a level crossing in Sussex has set up a fund to help families that lose an older child.
Tommy Ramshaw died after being hit by a train at Shoreham-by-Sea station in the early hours of 27 February.
Mr Ramshaw's mother, Jeanette Compton, said it had been a tough time financially as well as emotionally.
Tommy's Fund will be run as a social enterprise with profits generated being used to support bereaved families.
"The idea is that if the parents need to take some unpaid leave we can just step in and help each mother with a few hundred pounds just to help with their rent, necessary things like food, shopping, that sort of thing," Ms Compton said.
She also plans to hold a fun day in Shoreham in August to raise extra funds.
Campaigners called for a pedestrian subway under the railway at Shoreham-by-Sea station to be reopened in the weeks following Mr Ramshaw's death.
Network Rail said the crossing had "good safety features" and reopening the underpass was not a viable option.