Brighton's Preston Park Velodrome reopens for competitions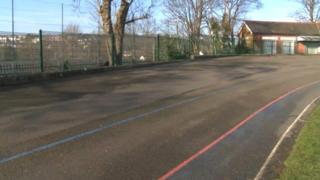 A historic velodrome has reopened for competitive racing after work to improve the venue's safety and bring it up to modern standards.
British Cycling stopped racing at the Preston Park track in Brighton in 2014 after it was declared unsafe but it remained open for leisure use.
The organisation paid £110,000 towards the £148,000 cost of replacing the perimeter fencing and gates.
The rest came from Brighton and Hove City Council.
A campaign to save the track was supported by former Tour de France rider Sean Yates who said it would be "a great shame" if Preston Park Velodrome was lost.
Users of the facility, which was dug out by hand by the British Army in 1877, also staged a number of protests including a "slow ride" round the track.
Great Britain Cycling Team member Pete Mitchell officially opened the track on Sunday before an under 16s National Youth Track Omnium competition.
Mr Mitchell said it was fantastic the track was back to competition standard.
"This is where I fell in love with cycling," he said.
"When I heard that it was closed it was such a shame for the local community.
"Preston Park is the friendliest track in the country. For people who are starting in cycling it is the perfect place to get to know the sport."
Wednesday night Sussex Cycle Race League meetings start on 18 May.