Horsham's 'costly' Shelley fountain to be dismantled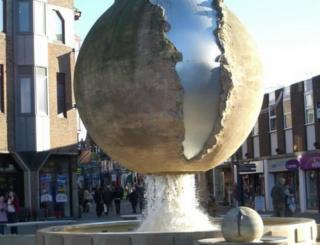 A fountain built to commemorate the poet Percy Bysshe Shelley is to be dismantled because it has cost more than £200,000 to maintain.
Horsham District Council voted overwhelmingly to remove the Rising Universe water feature, which has been in the West Sussex town since 1996.
Sculptor Angela Conner blamed the authority for not taking enough care and allowing it to "disintegrate".
Councillors said it had reached the end of its "serviceable life".
Featuring a large globe that fills with water as it rises and falls, it has not worked for some time.
It was created to commemorate the bicentenary of the birth of Shelley, who was born near Horsham in 1792.
'Inefficient people'
The council had been liaising with Ms Conner about its future, saying she acknowledged the removal was "an appropriate course of action in the current circumstances".
However, Ms Conner said "concerted effort has been made to slowly have the sculpture literally disintegrate... I can't believe the lack of care that's taken place".
"Very sadly the council have used hugely expensive and inefficient people to run the thing at vast cost to the people of Horsham," she told the BBC.
Councillor Jonathan Chowen, cabinet member for leisure and culture, said it was "a sad moment", but it had become too expensive "to continue to pour money into the fountain if we can't get the water feature to work".
"Just to leave the globe standing there is unfair to the art it was," he said, adding its replacement would be subject to a public consultation.