Georgi Yaschuk death in Brighton 'not murder' say police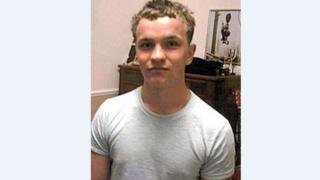 The death of a 23-year-old man, struck by a lorry in Brighton, is no longer being treated as murder, police said.
Three men, aged 24, 27 and 28, who had been arrested and bailed on suspicion of murder, have now been released without charge.
The body of Georgi Yaschuk, of Cambridge Road, Brighton, was found in Western Road earlier this month.
Police said it appeared a fight beforehand had spilled onto the street.
Mr Yaschuk was hit and killed by a Tesco lorry in the early hours of Sunday 10 April.
An inquest into the circumstances of his death will be held by the Brighton coroner on 2 November.
Mr Yaschuk's family said he was a "clever and kind-hearted cheeky chappie" who enjoyed playing basketball.
"We are all shocked and saddened by the tragic news," they said in a statement.
Tesco said they were "deeply shocked" to hear about what happened and their thoughts went "out to this young man's family".