Brighton Babes in Woods murder bench vandalised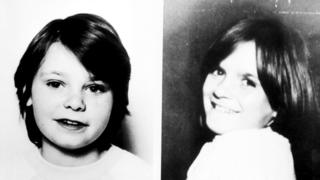 A memorial bench for two girls who were murdered in Brighton has been vandalised, generating "widespread anger and revulsion" in the city.
Nicola Fellows and Karen Hadaway, both nine, were strangled in Wild Park in 1986 in what became known as the "Babes in the Woods" murders.
The bench is to be replaced by Sussex Police and Brighton council in a "one-off special initiative".
Councillor Gill Mitchell said the attack touched a nerve with everyone.
The council reported the damage to police on Tuesday, but it was not clear when it occurred and there was nothing to indicate who was responsible, police said.
'Exceptionally tragic event'
In a joint statement, the police and council said the replacement reflected the exceptional circumstances and the exceptionally horrific nature of the crimes.
Ms Mitchell said: "This has touched a nerve with everyone I've spoken to over the last 24 hours. People are really upset about it.
"The families of the two girls must be devastated at the mindless desecration of a memorial to their loved ones."
Ch Supt Nev Kemp said: "We have offered to make a contribution to the costs of the repair and replacement of the bench because of the exceptionally tragic event that happened here in 1986.
"Many local people will never forget what happened and nor will we."
Nicola and Karen's bodies were found a day after they had disappeared.
The bench sits alongside a plaque near where the girls, who both lived in Moulsecoomb, were found.