Lebanese man denied chance to donate kidney to Eastbourne cousin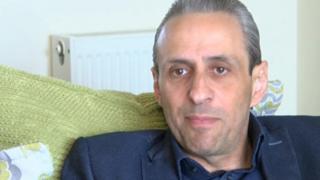 A man has been told he cannot receive a kidney transplant from his Lebanese cousin as his donor is not allowed into the country.
Roland Blell, from Eastbourne, needs dialysis every day and his cousin is a match for a transplant.
However, he has been told immigration officials fear his cousin would not return to Lebanon.
The Home Office said all cases were "carefully considered on individual merits".
Mr Blell arrived in the UK in 2008 and brought his family over five years later when he joined the transplant list.
He said he doesn't want to be treated in Beirut because of the cost, being away from his family and religious reasons due to being a Jehovah's Witness.
He said: "Being restricted to a machine nine hours every night... you cannot sleep and it's really frustrating."
His cousin, Dany Bilal said: "I want to go back to Lebanon - I have two boys and a wife."
Eastbourne MP Caroline Ansell said she had met with immigration minister James Brokenshire to make a case for Mr Blell.
She said: "I made it clear that I thought this case needs to be reconsidered on compassionate grounds and that I had met Mr Blell, who had told me he was able to support his cousin in the UK."
A Home Office spokeswoman said: "All cases are carefully considered on their individual merits, in line with the UK immigration rules and based on evidence provided by the applicant."