Eastbourne Wish Tower war memorial given green light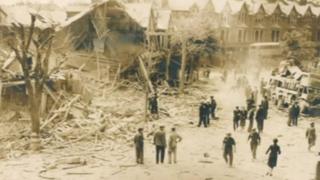 A new memorial to Eastbourne's civilian victims of enemy bombing in World War II has been approved by councillors.
One hundred and seventy-four people in the East Sussex resort lost their lives in 112 air raids over three years.
A memorial wall within the moat of the Wish Tower, to be engraved with the names of those killed, was recommended for council approval.
The Wish Tower cafe, the town's original memorial, was demolished in 2012 after falling into disrepair.
A panel inscribed with a quote from Sir Winston Churchill will also be included in the new wall.
Eastbourne Borough Council said the structure was "considered acceptable in design and conservation terms".
The town was one of the most bombed places on the south coast during World War II and was a regular victim to "hit and run" raids by the Luftwaffe.
It has been estimated 700 high explosive and 4,000 incendiary bombs landed on the seaside town.
One in 12 residents were either killed or injured, while 474 houses and three churches were totally demolished.
The Grade II-listed Wish Tower is a Scheduled Ancient Monument on the seafront, close to the site of the previous memorial, which was opened in 1961 after local councillor Gilbert Foyle paid half the cost.
His son, John Foyle, who campaigned for the new memorial, said the bombings left the town "enormously scarred" and it was important to "remember the fortitude" of all those affected.
"There was terrible suffering, there was wonderful bravery amongst the rescue teams... they're an example to us today," he said.
World War II was the most destructive global conflict in history, with more than 60,000 civilians killed in the UK alone.