Volunteer driver claims Sussex hospital transport service in 'chaos'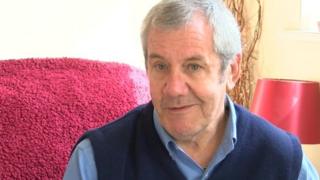 A volunteer driver who works for a private firm providing hospital transport services in Sussex has claimed it is in "chaos".
Since Coperforma took over on 1 April, it has been plagued by delays with some patients missing dialysis appointments.
Driver Alan Keenes said patients had been left in hospital when they were supposed to be picked-up.
Coperforma has apologised and said the problems were due to "inaccurate data" being transferred to the company.
Mr Keenes told BBC South East Today: "The main worry is for the patients, they have been left in departments, not being picked up.
"Some of the renal and oncology [appointments] are keeping them alive - if they don't turn up at the hospital, what's going to happen?"
'Inaccurate data'
He believes Coperforma's smartphone app is partly to blame, as when there is not enough information in the app drivers have to call the company.
He said: "You can't get through to the control room. On Monday I spent 45 minutes... before somebody answered the phone."
NHS Coastal West Sussex Clinical Commissioning Group (CCG) has said it has launched an investigation into the delays.
A spokesman for Coperforma said: "We apologise for the ongoing issues in patient transport services.
"The transfer of inaccurate data has resulted in incomplete or inaccurate addresses being given to crews and drivers."