Brighton Pier's new owner 'undecided about name'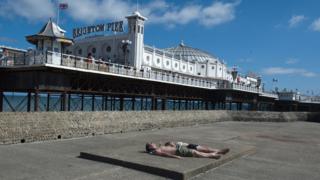 The new owner of Brighton Pier has said he is "undecided" about whether to restore its old Palace Pier name.
Brighton council's leader Warren Morgan and Brighton Pavilion MP Caroline Lucas are among those calling for the landmark to revert to its former title.
Luke Johnson, from Eclectic Bar Group, which has bought the pier, said he wanted to understand the arguments.
He said: "I think we need to listen to what people's views are and react appropriately."
Mr Johnson said: "Piers are about heritage and history and tradition, so I understand the affection people have for the old name."
But he added: "Everyone has been on the pier, everyone has memories of it, so I think it belongs to the country in a sense - not just Brighton, and not just us."
Mr Morgan said for many it would always be the Palace Pier, and Ms Lucas said restoring the name was "a nice way of way of reconnecting to the history of the pier".
But Soozie Campbell, chairman of Brighton and Hove Tourism Alliance, said: "Who knows where the Palace Pier is? It's not always obvious.
"If it's got Brighton Pier written on the front of it, that tells you where it is and it's free marketing. We need that right now."
The Grade II* listed pier opened as the Brighton Marine Palace and Pier in 1899, and was known as the Palace Pier until 2000.
It has been known as Brighton Pier for the past 16 years.
The Eclectic Bar Group announced its £18m acquisition of The Brighton Marine Palace and Pier Company last week.