Brighton council leader seeks return of 'Palace Pier'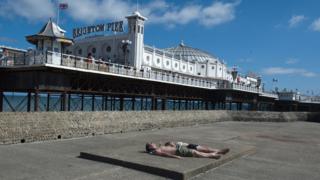 The new owner of one of the south coast's most famous landmarks is being asked to restore its traditional name.
Brighton Pier is being sold to the Eclectic Bar Group for £18m, after first being put up for sale in 2011.
It was built as the Brighton Marine Palace and Pier during the 1890s, and known as the Palace Pier until 2000.
Brighton and Hove City Council leader Warren Morgan said it was "a valuable part" of the city's heritage and for many would always be the Palace Pier.
"It's good that we hold on to some of the things that people remember from years gone by, some of our heritage, our history, and keeping the Palace Pier name is one way of doing that," he said.
'Preserve and invest'
The Eclectic Bar Group announced its acquisition of The Brighton Marine Palace and Pier Company last week.
The Grade II* listed Brighton Marine Palace and Pier, which cost £27,000 to build, opened in 1899 and replaced the old chain pier, dating from 1823.
It has been known as Brighton Pier for the past 16 years.
"I hope that the new owners will continue to preserve and invest in the pier, and will consider a return to the traditional name," Mr Morgan said.
Anne Martin, general manager of Brighton Pier, said she believed there was a huge benefit having Brighton in the structure's name.
"The sign over the door there, Brighton Pier, is worldwide famous, so I don't think there's anything wrong in the association between the city and the pier.
"I'd leave it as it is," she said.