American mother refused UK visa over income rules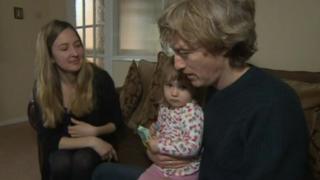 More than 1,000 people have signed a petition urging the Home Office not to deport an American woman living in the UK.
Katy James has been refused a visa because her British husband Dominic, a self-employed bike dealer, earns less than £18,600 per year.
Mr and Mrs James married in 2006 and have a daughter, Madeleine, aged two.
The Home Office said all applications were considered on individual merit in line with immigration rules.
Mrs James said she has been ordered to leave by 16 April or face deportation.
She said: "They told me in a letter 'you're fine to leave the country without your daughter'. They are saying a child does not need their mother, it is outrageous, disgusting really."
The couple, from Eastbourne, said they were victims of a rule change in 2012 which requires British citizens with non-EU spouses to prove an income of at least £18,600.
Their local MP, Caroline Ansell, backed their campaign and said: "Has this couple been served well by this framework? No. I do not think it is reasonable, I do not think it is proportionate. This mum needs to stay with her daughter".
Benefits
Legal commentator Joshua Rozenberg said the purpose of the 2012 legislation was to limit immigration and stop non-Europeans coming to the UK to marry and claim benefits.
"Government guidance says splitting up a family does not, in their view, breach the Human Rights Convention. Unless [the family] can show she would be suffering some particular hardship, by going back to her country of citizenship, she is in a very difficult position," he added.