Sussex fire crews free trapped rescue cat Phoebe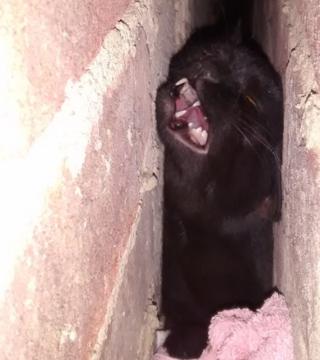 A meowing cat found trapped in a tiny gap between two walls for several hours has been rescued by firefighters who smashed bricks to reach her.
Rescue cat Phoebe was found wedged between a garage and the side of the house where she lives in Hassocks, Sussex.
It was one of the first times she had left her home, owner Jon Harper said.
Mr Harper called the fire service after hearing the pet's meows, and crews removed brickwork to free her.
He said: "She is just under a year old, and is quite nervous so has been slow to venture outdoors and stays close to the house.
"I could hear her from all around the neighbourhood. She was calling out for ages and was stuck for a good few hours."
The pet was left trembling and covered in dust, with bruising and broken claws. She has since made a full recovery.
Mr Harper added: "She was completely traumatised. She is perfect now.
"The next day she was at the front door wanting to get out of the house. She hasn't lost her sense of adventure."