Duc Bac Vuong jailed for Hailsham nail bar murder bid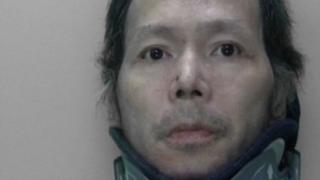 The owner of a nail bar who tried to murder his wife and five-month-old son in a fire at their East Sussex salon has been jailed for 22 years.
Duc Bac Vuong, 52, known as Sammi, started the fire at Hollywood Nails, Hailsham, on 4 March 2015, trapping his wife Tram and baby son George inside.
All three suffered serious burns, with Vuong claiming the fire was accidental.
He was convicted of two counts of attempted murder following a trial at Lewes Crown Court in January.
Sussex Police said Vuong started the fire with acetone liquid, blocking all the access points from the nail bar and upstairs flat, where the family lived.
He suffered 47% burns to his legs, chest and hands and was given only a 50% chance of survival. He spent four months in hospital.
George suffered burns to about 9% of his body, while his mother was left with 15% burns and needed skin grafts.
Both underwent months of treatment.
Following the sentencing, chief crown prosecutor for CPS South East, Jaswant Narwal, said: "This was a cold and calculated attack on a woman and her baby, with the fire deliberately started at the only place they could have escaped from the building.
"Vuong knew the layout of the property and was fully aware he was trapping the pair inside when he started the fire and could only have intended to have killed them.
"The fire left both the victims with terrible injuries and, no doubt, emotional trauma for the woman knowing her husband was trying to kill both her and their baby by trapping them."
Det Sgt Dave Tye, of Sussex Police, who led the investigation, said: "Vuong has claimed to be the hero in suffering burns while putting the fire out... his victims will have to live with their injuries, both physical and mental for the rest of their lives."