Chichester 'art factory' puts Novium on award shortlist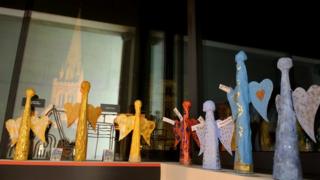 A museum that turned itself into a factory and invited people in for 24 hours to make art has been shortlisted for an award.
The Novium in Chichester created an "Inventive Factory" where artists set up projects for visitors to join in.
There were four factory shifts - a launch shift, a graveyard shift that ran through the night, an early riser shift and an end of the line shift.
One project saw visitors wrapping ceramics and glass in cling film.
Other activities included projecting video on to the Bosham Head - part of a Roman statue at the West Sussex museum.
And performance art was staged in the museum lift, where Neolithic, Roman and Saxon "funerals" were held, and in the stairwell, where artist Aldobranti walked with chalked feet to replicate a South Downs chalk track.
Last October's £3,800 project has been shortlisted in the Museums and Heritage Awards for Excellence in the "Project on a Limited Budget" category and was part of the national Museums at Night scheme.
Its name was inspired by 19th Century inventor Colin Pullinger, who ran an Inventive Factory in Selsey.
Councillor Gillian Keegan, cabinet member for commercial services for Chichester District Council, said it was the first time the museum had run an event on this scale, the first time it had been open for 24 hours - and was its first major art project.
The museum is up against rivals in Oldham, Oxford, London and Cheshire. The winner will be announced in May.