Brighton beach lifeguard drive as summer approaches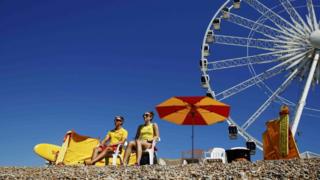 A team of 23 lifeguards is being recruited in Brighton as the city gears up for the summer season.
The city council said the seasonal recruits would join a large team of regular lifeguards on its "world-famous" beach.
Each year, the lifeguards carry out more than 100 rescues, give first aid to about 250 beach goers, and provide safety advice to about 10,000 people.
The team will patrol beaches from the Marina to Hove Lagoon from 28 May.
A deputy coxwain and lifeguard patrol boat coxwain, also part of the seasonal team, will patrol dedicated bathing zones to give safety advice, help swimmers and enforce byelaws.
Councillor Alan Robins, deputy chairman of Brighton's economic development and culture committee, said: "It's great to be looking forward to the summer season."
In addition to the seasonal recruits, the council has a team of dedicated life-guard trained officers who patrol Brighton and Hove's seafront and beaches throughout the year.