Pagham beach shingle replaced to protect seaside homes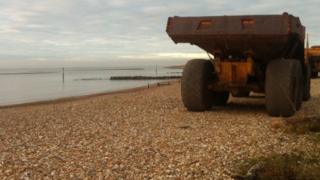 Work has begun to shore up a beach in West Sussex that is being gradually washed away by the tide.
Trucks and excavators have started moving 10,000 cubic metres of shingle on to Pagham beach to protect homes.
It is being taken from a surplus shingle further along the coast, in work funded by the Environment Agency.
Some residents in Pagham have called for longer-term measures to deal with the erosion.
---
On the scene, BBC Sussex reporter Simon Jenkins:
It is a unique part of the Sussex coastline because there is a strong tidal flow known as a scour current, which runs east to west.
When it goes by, it takes some of the beach with it. There has been a gradual growth of that shingle further out to sea in what is called a spit and that is causing the erosion of the beach.
---
The Environment Agency has allocated about £40,000 for the work, which is expected to take about two weeks.
Arun District Council described Pagham beach as a "dynamic coastline which changes every season and is very difficult to predict".
'Beach nightmare'
Councillor Terence Chapman said the work "will help to protect properties in East Front Road".
Ex-fisherman Chris Dodds welcomed the work but called for long-term measures to reduce the build-up of shingle.
He told BBC Sussex: "It has been a nightmare on the beach for about eight or nine years.
"The sea is shallower and whenever there are southerly winds it causes bigger waves and erodes the shingle even more."