Two arrested after children hurt in A23 crash near Crawley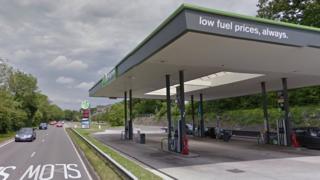 Two people have been arrested after an accident in West Sussex in which a woman and three children were injured.
The 61-year-old driver of a VW Golf and children aged between six and nine were hurt in the crash on Friday with an Audi S4 on the A23 near Crawley.
A nine-year-old boy with serious injuries was taken to St Georges Hospital in Tooting and is stable.
Sussex Police said the four occupants of the Audi left the scene, near Applegreen service station.
Two males aged 17 and 24 have been arrested.