Cuckmere Haven home owners in new bid to shore up cliffs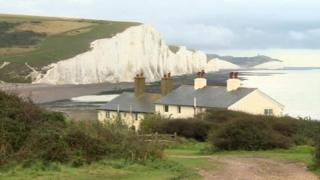 People living in cottages perched on a Sussex cliff edge will make another attempt to save their homes after attempts to build defences failed.
In February, volunteers spent a day trying to reinforce the cliffs at Cuckmere Haven at low tide with concrete at the base of the cliffs.
They saw their work washed away the night after the concrete was laid.
The cottages, next to the Seven Sisters chalk cliffs, have become a landmark and have appeared in several films.
'Lowest tide'
Resident Carolyn McCourt said: "Nature makes short work of human error."
She said: "[Last time] we chose the wrong tide to do it on. We've now chosen the lowest tide of the month."
She said volunteers would also use quicker-setting cement with this latest bid - they will know on Saturday whether the latest attempt has succeeded.
The aim of the work is to defend a privately-funded sea wall at Cuckmere.
Residents have maintained walls around the properties since the 1940s.
Ms McCourt said their work became vulnerable after the Environment Agency (EA) had stopped maintaining other land around the site.
She has previously described the "magical" cottages as perhaps the finest examples of coastguard cottages in Europe.
The EA decided not to continue maintaining flood defences in the estuary because there was deemed to be little flood risk, but it still regularly clears shingle from the mouth of the river.