Shoreham-by-Sea residents in level crossing subway protest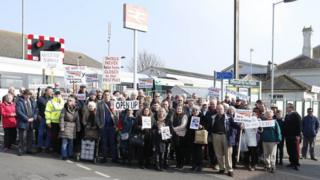 Campaigners have called for safety at a level crossing to be improved two weeks after a 20-year-old man was killed.
Protesters gathered outside Shoreham-by-Sea station, in West Sussex, on Saturday to urge Network Rail to reopen a pedestrian subway under the railway.
Tommy Ramshaw died after being hit by a train at the crossing in the early hours of 27 February.
Network Rail said the crossing had "good safety features" and reopening the subway was not a viable option.
"Shoreham level crossing is already fitted with barriers, alarms and warning lights - which is the highest level of protection we can provide.
"Owing to the constricted nature of the site, offering an alternative foot crossing, including reopening the pedestrian link to the subway, would be a serious logistical and financial challenge," a statement said.
Southern railway added that it had been working closely with Network Rail but there was "no simple engineering solution to restoring the route to the subway".
A subway connecting station platforms can be accessed by passengers with a train ticket, but the part allowing non-railway users to cross the line from the street was closed in 1988 when the level crossing was updated with new equipment.
Up until 2008, pedestrians could still cross the line when the barriers were closed via the platforms and subway, but that was closed to them with the introduction of ticket barriers.
The campaign is being led by the Shoreham Society, which said many people had "expressed frustration" at the long waiting times when the crossing barriers were down.
Mr Ramshaw's mother, Jeanette Compton, said while her son had "made a mistake", everything possible should be done to stop someone else from being killed.