Crawley mobility scooter rider, 92, rescued from busy road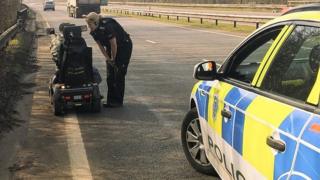 A 92-year-old man was found riding his mobility scooter on a busy dual carriageway after taking a wrong turn.
The "very confused" pensioner was stopped by police up on the 70mph-limit road near Crawley, West Sussex, on Friday.
Officers were alerted by a motorist who had seen the man heading away from the M23 on the A2011 Crawley Avenue and had stopped to help him.
PC Katie Breeds, of Sussex Police, said: "He didn't know where he was.
"We sat him in the back of our police car and waited for a colleague in a van to collect the mobility scooter and then we delivered scooter and driver back home to his warden-assisted accommodation in Crawley."