University of Brighton students fight Hastings 'closure' plan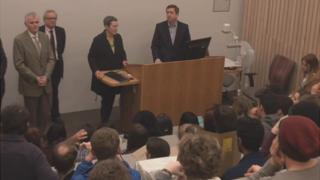 Students have begun a campaign to persuade the University of Brighton to reverse its plans to scale down its presence in Hastings.
They heckled vice-chancellor Debra Humphris as she explained the decision, banging desks and urging her to resign.
University bosses say insufficient numbers are being attracted to make the Hastings campus sustainable but promise a continued role in the town.
But students say they have been betrayed and pledge to fight the plans.
The university's board made its decision on Tuesday following a review of services in the town, commissioned by Prof Humphris.
Officials spoke of "evolving" future higher-education provision, working with the town's Sussex Coast College to provide some university courses.
The statement was condemned by students as "intentionally vague".
They later said the long-term objective was to establish a University of Hastings.
After meeting Prof Humphris, they said they are determined to step up their opposition to what they say is planned closure over two years, with the support of businesses and councillors who fear Hastings' regeneration will grind to a halt.
An online petition calling on the university to reverse the decision collected almost 500 signatures within a few hours.
Student welfare and campaigns officer Molly Maher told the BBC: "This was a decision made by management. It's not inevitable, it's not necessary, and I really think that the strength of the community here will bring about a fightback that can win."
Prof Humphris, who left the meeting after coming under fierce verbal attack, told the BBC the student numbers at Hastings were nowhere near enough.
She said: "What we are doing now is starting a two-year process to evolve our higher-education offering from where it is now to where we would like it to be in the future."
Hastings council leader Peter Chowney said the authority had not been consulted.
"There are a lot of people in Hastings - a very deprived community - who have got a university education here who otherwise would have had no access to that," he said.
"It is essential that we retain a university in Hastings."