Sheep die in 'worst attack in memory' near Chichester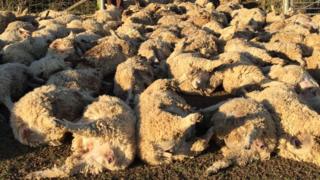 A flock of 116 sheep has been killed in a suspected dog attack described as the UK's worst case of sheep-worrying in living memory.
The animals were found on Monday by farmer Gordon Wyeth in a field at West Dean Estate near Chichester.
Sussex Police said the sheep, many of them pregnant, had been herded into a tight group against a fence and gate bordering woodland.
They had panicked and died either from shock or by being crushed.
Sgt Tom Carter said there were no signs of the sheep being savaged but police were "all but 100% certain" the deaths were caused by dogs.
The flock, worth about £17,000, died just north of the A286 at the eastern end of West Dean village.
James Osman, the National Farmers Union adviser for Sussex, said he believed it was the worst incident of its kind in living memory.
"Talking to colleagues around the country, the number of deaths is double what we have come across in the past," he said.
---
Analysis
By Claire Marshall, BBC environment correspondent
This couldn't have happened at a worse time of year.
Spring is when ewes have their lambs, and they are at their most vulnerable - many of the sheep that were killed were pregnant.
A sheep doesn't actually have to be savaged by a predator.
They panic easily and their instinct is to follow each other, so they can die of shock or by being crushed, which is what seems to have happened here.
The likely culprit? A dog that was out of control. They call it "sheep worrying".
Dog owners have already been warned - around 18,500 livestock were killed or injured in this way last year. That's a rise of more than a third.
So why are these figures going up? Perhaps it's because more and more of us keep dogs as companions.
The Pet Food Manufacturer's Association reckons that a quarter of all households now own a dog.
That's 8.5 million dogs - a lot of animals to keep under control.
---
Sgt Carter said the flock was last checked at lunchtime on Sunday and the attack could have occurred at any time over the next 24 hours.
"It was a terrible sight," he said. "This is not just about the Mr Wyeth's livelihood - and it will cost him at least another £2,000 to dispose of the carcasses - but also his emotional attachment to the animals that he has raised and nurtured.
"We have seen a rise in sheep-worrying incidents and as spring approaches more dog owners will be heading for the countryside to exercise their pets.
"We urge people to keep their dogs on a lead while they are walking in rural areas and around livestock."
The West Dean Estate, run by the Edward James Foundation, includes West Dean College and West Dean Gardens