Carey's support for abuse accused Bishop George Bell 'distressing'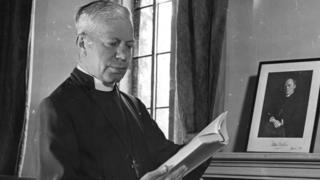 The alleged abuse victim of a former Sussex bishop has said an open letter from a former Archbishop of Canterbury praising him is deeply distressing.
The Church has settled a civil claim made by the woman, who claims she was abused by Bishop of Chichester George Bell in the late 1940s and early 1950s.
In a letter to the bishop's niece, Lord Carey said he was "appalled" by the way authorities had treated his memory.
But Rt Rev George Bell's unnamed victim said: "Great men can do evil things."
She says he molested her as a child in Chichester Cathedral as she sat on his lap listening to stories.
On Monday, she told BBC South East that she was angry at Lord Carey's intervention, published in an open letter at the weekend.
She said that she wrote to him 14 years ago when he was the Archbishop of Canterbury, but her accusations were not taken seriously.
"Perhaps he's feeling guilty that he didn't take any notice of me. Now he wants to discredit me.
"He doesn't understand the impact it has on your life, because you have those nightmares," she said.
Lord Carey has "strongly denied" ever seeing any communication from the woman about George Bell.
A statement said: "He has made enquiries and no record has yet been found of any complaint."
In his letter to Bishop Bell's 92-year-old niece, Barbara Whitley, Lord Carey said her uncle was "without question one of the greatest church leaders of the 20th Century".
Mrs Whitley said she did not "believe a word" of the accusations against him.
"He was a very busy man... he wouldn't take anybody on his knee.
"He was not that sort of man, it just isn't him," she told the BBC.
George Bell was Bishop of Chichester from 1929 until his death in October 1958.
9 March, 2016: This article has been updated to include a response from Lord Carey.