Relief road linking Shripney to Felpham opens to motorists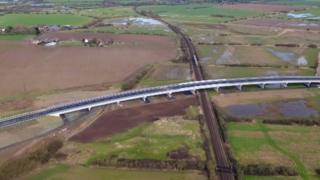 A £28m road designed to cut traffic congestion in West Sussex has opened after a five-year construction project.
The Felpham relief road connects the A29 at Shripney to the A259 at Felpham, via a viaduct, and forms part of the Bognor Regis Northern Relief Road.
The 1.8 mile (2.9km) single carriageway has been funded by Barratt Homes as part of a deal allowing it to develop a site comprising nearly 800 properties.
It believes commuters could save up to five hours a week using the new road.
The viaduct spans a third of a mile (0.5km) and passes over Lidsey Rife, Lidsey Flood Plain and the Barnham to Bognor Regis railway line.
John O'Brien, West Sussex County Council's cabinet member for highways and transport, said up to 20,000 vehicles a day were expected to use the road.
"We estimate that 40% of motorists who use the existing road network around Bognor Regis will take the relief road instead," he said.