Husband demands Brighton NHS apology over Vivien Neale death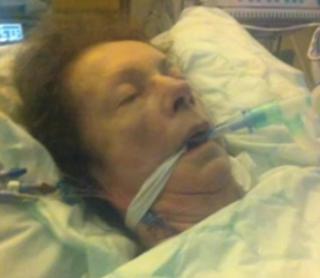 A man is considering legal action after a hospital "missed opportunities" to save his wife's life.
Vivien Neale, 66, died within two days of being admitted to the Royal Sussex County Hospital on 30 December 2014.
An initial diagnosis of a small bowel obstruction missed the seriousness of Mrs Neale's condition which, a report said, may have prompted an earlier CT scan and the chance to save her life.
The NHS trust accepted "things could have been done differently".
But, a spokesman for Brighton and Sussex University Hospitals NHS Trust said: "Unfortunately, Mrs Neale's condition was very advanced when she came to us and... it is impossible to know with any certainty whether her sad death could have been prevented."
'Miss her dearly'
Mrs Neale's husband Patrick said he has not even had an apology from the hospital.
He said: "She's not here. I miss her dearly. What more can I say? I blame the hospital, I really do.
"I'm not looking for millions and millions of pounds at all. That's not what I'm looking for. I was looking for an apology and I have not received that apology."
A CT scan was carried out the day after Mrs Neale was admitted, indicating that she had the far more serious ischaemic bowel condition, but doctors said surgery was by then not possible because of its severity, the hospital report said.
It went on to say there had been "missed opportunities to intervene more quickly".
The report, seen by BBC South East, said a consultant "thought it possible that Mrs Neale may have survived" had she the scan sooner.
According to the report, the lead consultant for abdominal surgery said in his opinion the possibility of ischaemic bowel should have been investigated earlier.
The report said: "Whilst impossible to know if the outcome would have been different if this had happened... the lead consultant thought it possible that Mrs Neale may have survived."
Among its recommendations, it said there should be a dedicated consultant to manage surgical admissions, emergency CT scans should be booked immediately, and patients' documentation should be improved.
The NHS trust said: "We are extremely sorry for Mr Neale's loss and we recognise how traumatic and distressing this has been for him."