New housing approved at Eastbourne's Martello Field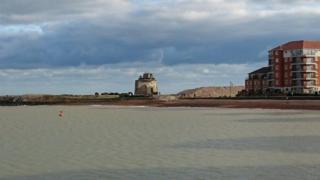 Plans to build homes on "one of the last precious open spaces" in an East Sussex resort have been given the final go-ahead.
Eastbourne Borough Council has approved plans to build more than 60 flats and 10 houses on the Martello Field site beside the town's Sovereign Harbour.
Opponents said it was the "last natural place" where dog-walkers, fishermen and holidaymakers could enjoy the seafront.
Councillors said the development would be "pleasing to the eye".
'No place to go'
The Eastbourne Martello Field Campaign for Recreational Area said the area was used for pleasure all year round by residents.
Geraldine Scudder, from the group, said: "They have no other place to go. People gravitate to this area because it is a natural area, and you walk out behind the huge buildings and concrete and you just have a breath of fresh air.
"We do need more housing, but we still need a green space."
Councillor Jim Murray, chairman of the planning committee, said the housing would take up one third of the area, with the rest left as green space.
"We've worked very hard with the planners and the developers to make sure we've got something that's pleasing to the eye."