Work begins on new council homes in Whitehawk, Brighton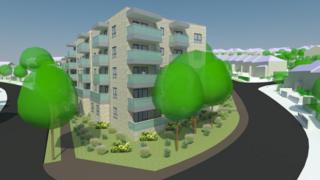 Work has started on 57 new "energy-efficient" council homes on the former Whitehawk library site in Brighton.
The development will consist of 10 one bedroom flats, 33 two bedroom flats and 14 three bedroom flats due for completion in 2017.
Flats are being built by the city council, which is aiming to build at least 500 new council homes by 2020.
Council leader Warren Morgan said: "Providing more affordable rented homes for local people is a priority."
Brighton & Hove City Council said the energy-efficient flats in Whitehawk with solar panels on the roof will be let at affordable rents to people on the housing register.
Six of the flats will be wheelchair accessible and many will have level access showers for tenants with mobility needs, it added.
Cllr Morgan said: "This is a high quality development in a prominent site in Whitehawk and we look forward to the first residents moving in towards the end of next year."