Brighton council tax hike and £2m spending cuts agreed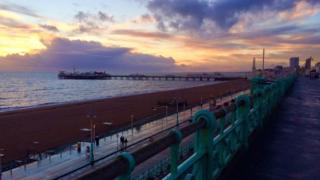 Brighton and Hove residents will see a 3.99% council tax rise and cuts of about £20m after the city council agreed its budget.
Councillors agreed amended spending plans for 2016/2017 during a meeting that lasted several hours.
The debate was suspended at one point when people protesting against the cuts burst into song.
Labour-run authority Brighton and Hove said it needed to make the savings to close a £68m funding gap by 2020.
Councillor Warren Morgan said it was a "tough time for public services" and the cuts would "harm a lot of people" but they had to do they best they could with what they had.
"A reduction of £20m in funding from central government alongside increasing costs means that we have had to take some difficult decisions," he added.
"This budget protects our services wherever we can, builds new services where able, redesigns services where we can do better for less."
'Extra money'
Protesters held up posters with the phrase "they cut we bleed" while they sang about solidarity.
Councillors passed the budget with several amendments proposed by the Conservative group, including protection for the "majority of funding" for residential respite and short breaks for children with disabilities, part of the funding for housing support for those at risk of homelessness and most of the funding for contracts supporting mental health services.
Geoffrey Theobold, Conservative leader of the opposition, said: "We're absolutely delighted. We've got more money for respite care. We've got the noise patrol service, that's been resurrected, more money for verge cutting, more money for toilets.
"A whole raft of extras which is what we wanted."
The council tax increase of 3.99% includes a government-sanctioned extra 2% to fund the "increasing demands and cost of adult social care", according to the council.